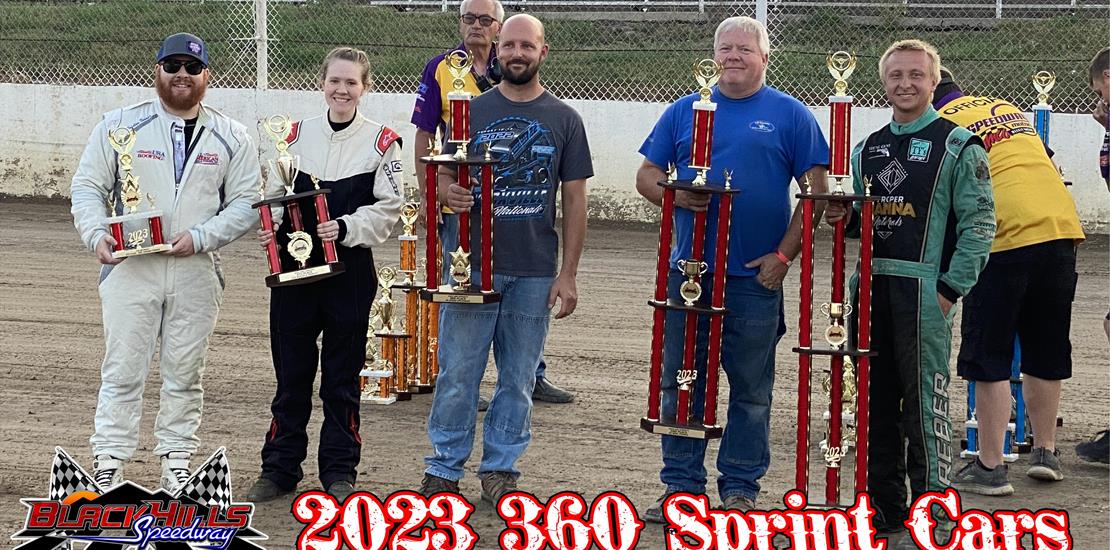 9/14/2023 -
Congrats to your 2023 Black Hills Speedway Overall Points winners in the 360 Sprint Car Class! Champion: Travis Reber #88 - Rapid City, SD 2nd: Mike P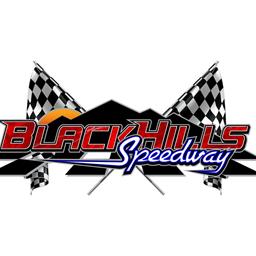 7/22/2023 - Black Hills Speedway
Rapid City, SD
ASCS Northern Plains Region Sprint Car Tour 2 Day Special
ASCS Northern Plains Sprint Car Special 2 day event @ The Half Mile brought to you by All American Siding & Windows and USA Roofing!! $1,250 to the winner each night! Catch the live stream @ www.bhsgts.tv ! Six classes will be racing with cars traveling from a 5 state region!
$1,250 to win ASCS Northern Plains Region Sprint Cars
IMCA Hobby Stock
Wissota Mod-4
Wissota Street Stock
Wissota Midwest Modified
IMCA Modified
Gates open at 5pm with racing starting at 7pm Both Friday and Saturday
Admission prices each night:
General Admission - $20
Seniors/Veterans - $15
12 years and younger over 4' tall - $5
Kids under 4' - FREE
Pit gates open at 4:30pm - Close 6:30 Sharp. Traveling drivers please check with staff for available concrete pit pads!
WISSOTA Mod Four

7 entries

360 sprints

16 entries

ASCS Northern Plains Region

IMCA Hobby Stock

9 entries

IMCA Modified

7 entries

WISSOTA Midwest Mods

9 entries

WISSOTA Street Stock

10 entries
Full Event Information on MyRacePass
WISSOTA Mod Four
Finish
Start
#
Competitor
Hometown
+/-
1
5
37
Dean Larson Pennock, MN
Pennock, MN
4
2
6
4T
Tristan Torres Rapid City, SD
Rapid City, SD
4
3
4
55
Shelli Lind Gillette, WY
Gillette, WY
1
4
2
114
Khi Jackson Rapid City, SD
Rapid City, SD
-2
5
1
9T
Branden Torres Rapid City, SD
Rapid City, SD
-4
6
3
69
Mike Lind Gillette, WY
Gillette, WY
-3
7
7
7
Rob Arlaud Rapid City, SD
Rapid City, SD
-
Finish
Start
#
Competitor
Hometown
+/-
1
5
37
Dean Larson Pennock, MN
Pennock, MN
4
2
4
55
Shelli Lind Gillette, WY
Gillette, WY
2
3
1
69
Mike Lind Gillette, WY
Gillette, WY
-2
4
6
9T
Branden Torres Rapid City, SD
Rapid City, SD
2
5
3
114
Khi Jackson Rapid City, SD
Rapid City, SD
-2
6
7
7
Rob Arlaud Rapid City, SD
Rapid City, SD
1
7 DNF
2
4T
Tristan Torres Rapid City, SD
Rapid City, SD
-5
All transfer
360 sprints
Finish
Start
#
Competitor
Hometown
+/-
1
4
27B
Jeremy Huish Jetmore, KS
Jetmore, KS
3
2
2
0J
Jeremy McCune Billings, MT
Billings, MT
-
3
3
21
D.J. Brink Rapid City, SD
Rapid City, SD
-
4
7
1
Nick Haygood Denver, CO
Denver, CO
3
5
1
88
Travis Reber Rapid City, SD
Rapid City, SD
-4
6
5
16G
Austyn Gossel Windsor, CO
Windsor, CO
-1
7
9
20
Logan Hershey Gillette, WY
Gillette, WY
2
8
6
2
Shad Petersen Casper, WY
Casper, WY
-2
9
12
4
Adam Speckman Rapid City, SD
Rapid City, SD
3
10
11
6G
Bryan Gossel Windsor, CO
Windsor, CO
1
11
8
3
Mike Pennel Rapid City, SD
Rapid City, SD
-3
12
15
66
Fred Holz Gypsum, CO
Gypsum, CO
3
13
14
28T
Jordan Tanner Rapid City, SD
Rapid City, SD
1
14
10
15
James Sires Rapid City, SD
Rapid City, SD
-4
15 DNF
13
13
McKayla Worley Rapid City, SD
Rapid City, SD
-2
16 DNF
16
51
Cody Sires Owanka, SD
Owanka, SD
-
Finish
Start
#
Competitor
Hometown
+/-
1
1
16G
Austyn Gossel Windsor, CO
Windsor, CO
-
2
3
2
Shad Petersen Casper, WY
Casper, WY
1
3
4
1
Nick Haygood Denver, CO
Denver, CO
1
4
2
15
James Sires Rapid City, SD
Rapid City, SD
-2
5
5
13
McKayla Worley Rapid City, SD
Rapid City, SD
-
6
6
51
Cody Sires Owanka, SD
Owanka, SD
-
Finish
Start
#
Competitor
Hometown
+/-
1
4
27B
Jeremy Huish Jetmore, KS
Jetmore, KS
3
2
3
0J
Jeremy McCune Billings, MT
Billings, MT
1
3
5
3
Mike Pennel Rapid City, SD
Rapid City, SD
2
4
2
6G
Bryan Gossel Windsor, CO
Windsor, CO
-2
5
1
28T
Jordan Tanner Rapid City, SD
Rapid City, SD
-4
Finish
Start
#
Competitor
Hometown
+/-
1
1
21
D.J. Brink Rapid City, SD
Rapid City, SD
-
2
4
88
Travis Reber Rapid City, SD
Rapid City, SD
2
3
2
20
Logan Hershey Gillette, WY
Gillette, WY
-1
4
5
4
Adam Speckman Rapid City, SD
Rapid City, SD
1
5
3
66
Fred Holz Gypsum, CO
Gypsum, CO
-2
IMCA Hobby Stock
Finish
Start
#
Competitor
Hometown
+/-
1
4
95J
John Garrigan Jr Rapid City, SD
Rapid City, SD
3
2
5
25
Kyle Hanson Hermosa, SD
Hermosa, SD
3
3
9
100K
Brett Konst Sturgis, SD
Sturgis, SD
6
4
1
9
Jack Hubbard Jr Rapid City, SD
Rapid City, SD
-3
5
3
33C
Alan McNeil Rapid City, SD
Rapid City, SD
-2
6
6
00K
Tracy Konst Sturgis, SD
Sturgis, SD
-
7
8
24K
Casey Rose Rapid City, SD
Rapid City, SD
1
8
2
89
Abigail Boggs Custer, SD
Custer, SD
-6
9
7
45
Tim Remington Edgemont, SD
Edgemont, SD
-2
Finish
Start
#
Competitor
Hometown
+/-
1
7
95J
John Garrigan Jr Rapid City, SD
Rapid City, SD
6
2
1
9
Jack Hubbard Jr Rapid City, SD
Rapid City, SD
-1
3
5
33C
Alan McNeil Rapid City, SD
Rapid City, SD
2
4
4
89
Abigail Boggs Custer, SD
Custer, SD
-
5
8
25
Kyle Hanson Hermosa, SD
Hermosa, SD
3
6
6
00K
Tracy Konst Sturgis, SD
Sturgis, SD
-
7
2
45
Tim Remington Edgemont, SD
Edgemont, SD
-5
8
3
24K
Casey Rose Rapid City, SD
Rapid City, SD
-5
9 DNF
9
100K
Brett Konst Sturgis, SD
Sturgis, SD
-
All transfer
IMCA Modified
Finish
Start
#
Competitor
Hometown
+/-
1
4
XM
Mike Dimond Rapid City, SD
Rapid City, SD
3
2
1
716
Jake Dimond Rapid City, SD
Rapid City, SD
-1
3
2
13
Brent Nielsen Rapid City, SD
Rapid City, SD
-1
4
7
46
Adam Boggs Custer, SD
Custer, SD
3
5
6
2N
Nate Hand Rapid City, SD
Rapid City, SD
1
6 DNF
5
44
Eric Mass Rapid City, SD
Rapid City, SD
-1
DQ
3
5
Connor Friske Rapid City, SD
Rapid City, SD
-
Finish
Start
#
Competitor
Hometown
+/-
1
5
5
Connor Friske Rapid City, SD
Rapid City, SD
4
2
7
44
Eric Mass Rapid City, SD
Rapid City, SD
5
3
4
13
Brent Nielsen Rapid City, SD
Rapid City, SD
1
4
3
716
Jake Dimond Rapid City, SD
Rapid City, SD
-1
5
6
XM
Mike Dimond Rapid City, SD
Rapid City, SD
1
6
2
2N
Nate Hand Rapid City, SD
Rapid City, SD
-4
7
1
46
Adam Boggs Custer, SD
Custer, SD
-6
All transfer
WISSOTA Midwest Mods
Finish
Start
#
Competitor
Hometown
+/-
1
3
008
Brandon Woodhead Box Elder, SD
Box Elder, SD
2
2
2
5T
Scott Tyrrell Rapid City, SD
Rapid City, SD
-
3
7
55J
Jaren Puhlman Piedmont, SD
Piedmont, SD
4
4
9
166
James Stands III Rapid City, SD
Rapid City, SD
5
5
8
509
Brennan Davis Piedmont, SD
Piedmont, SD
3
6
6
27
Mike Jung Rapid City, SD
Rapid City, SD
-
7 DNF
1
50
Paul Parks Owanka, SD
Owanka, SD
-6
DQ
5
22
Matt Heinzerling Spearfish, SD
Spearfish, SD
-
DQ
4
31
Kyle Harkin Hermosa, SD
Hermosa, SD
-
Finish
Start
#
Competitor
Hometown
+/-
1
4
31
Kyle Harkin Hermosa, SD
Hermosa, SD
3
2
3
008
Brandon Woodhead Box Elder, SD
Box Elder, SD
1
3
5
5T
Scott Tyrrell Rapid City, SD
Rapid City, SD
2
4
8
22
Matt Heinzerling Spearfish, SD
Spearfish, SD
4
5
1
50
Paul Parks Owanka, SD
Owanka, SD
-4
6
2
27
Mike Jung Rapid City, SD
Rapid City, SD
-4
7
7
55J
Jaren Puhlman Piedmont, SD
Piedmont, SD
-
8
9
509
Brennan Davis Piedmont, SD
Piedmont, SD
1
9
6
166
James Stands III Rapid City, SD
Rapid City, SD
-3
All transfer
WISSOTA Street Stock
Finish
Start
#
Competitor
Hometown
+/-
1
8
34JR
Braden Brauer Eyota, MN
Eyota, MN
7
2
6
22T
Troy Murner Rapid City, SD
Rapid City, SD
4
3
7
78
Leonard Ferguson Kyle, SD
Kyle, SD
4
4
3
79
Warren Pourier Jr Kyle, SD
Kyle, SD
-1
5
10
21Q
Andy Fitzgerald Rapid City, SD
Rapid City, SD
5
6
9
Z22
Cole Phillips Winner, SD
Winner, SD
3
7
5
83
Mark Iyotte Jr Rosebud, SD
Rosebud, SD
-2
8
4
38
Toby Price Oglala, SD
Oglala, SD
-4
9
1
55J
Jaren Puhlman Piedmont, SD
Piedmont, SD
-8
10 DNF
2
7
Les Cuny Allen, SD
Allen, SD
-8
Finish
Start
#
Competitor
Hometown
+/-
1
4
79
Warren Pourier Jr Kyle, SD
Kyle, SD
3
2
2
7
Les Cuny Allen, SD
Allen, SD
-
3
3
22T
Troy Murner Rapid City, SD
Rapid City, SD
-
4
1
38
Toby Price Oglala, SD
Oglala, SD
-3
5
5
Z22
Cole Phillips Winner, SD
Winner, SD
-
All transfer
Finish
Start
#
Competitor
Hometown
+/-
1
2
55J
Jaren Puhlman Piedmont, SD
Piedmont, SD
1
2
5
34JR
Braden Brauer Eyota, MN
Eyota, MN
3
3
3
78
Leonard Ferguson Kyle, SD
Kyle, SD
-
4
4
83
Mark Iyotte Jr Rosebud, SD
Rosebud, SD
-
5 DNF
1
21Q
Andy Fitzgerald Rapid City, SD
Rapid City, SD
-4
All transfer