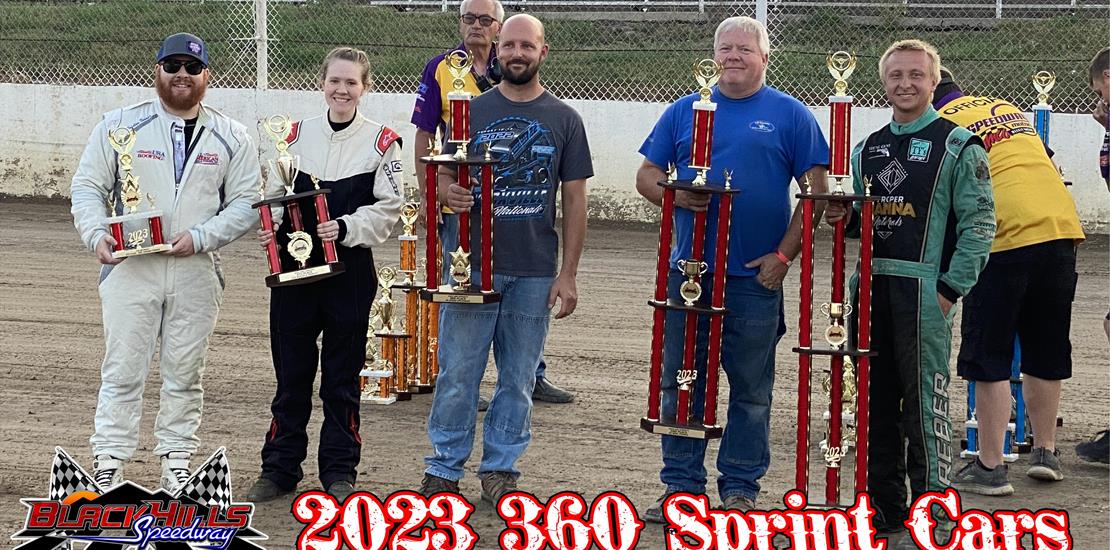 9/14/2023 -
Congrats to your 2023 Black Hills Speedway Overall Points winners in the 360 Sprint Car Class! Champion: Travis Reber #88 - Rapid City, SD 2nd: Mike P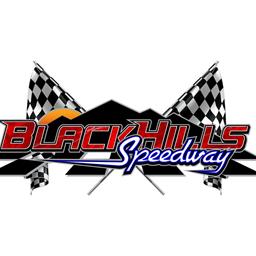 7/14/2023 - Black Hills Speedway
Rapid City, SD
IMCA Modified .38 Special
Don't miss this weekend @ The Half Mile, $1,000 to win IMCA Modified .38 Special. Drivers traveling from a 3 state region for this special event! All classes are racing.
IMCA Modified Special
360 Sprint Cars
Wissota Midwest Modified
Wissota Mod 4
Wissota Street Stock
IMCA Hobby Stock
Gates open at 5pm, Races start 7pm
Admission prices:
General Admission - $15
Seniors/Veterans - $12
12 years and younger over 4' tall - $6
Kids under 4' - FREE
Pit gates open at 4:30pm - Close 6:30 Sharp. Traveling drivers please check with staff for available concrete pit pads!
WISSOTA Mod Four

7 entries

360 sprints

7 entries

IMCA Hobby Stock

8 entries

IMCA Modified

10 entries

WISSOTA Midwest Mods

8 entries

WISSOTA Street Stock

8 entries
Full Event Information on MyRacePass
WISSOTA Mod Four
Finish
Start
#
Competitor
Hometown
+/-
1
4
37
Dean Larson Pennock, MN
Pennock, MN
3
2
1
4T
Tristan Torres Rapid City, SD
Rapid City, SD
-1
3
3
55
Shelli Lind Gillette, WY
Gillette, WY
-
4
5
02K
Bill Kuhrt Gillette, WY
Gillette, WY
1
5
2
69
Mike Lind Gillette, WY
Gillette, WY
-3
6
7
9T
Branden Torres Rapid City, SD
Rapid City, SD
1
7 DNF
6
114
Khi Jackson Rapid City, SD
Rapid City, SD
-1
Finish
Start
#
Competitor
Hometown
+/-
1
6
37
Dean Larson Pennock, MN
Pennock, MN
5
2
1
69
Mike Lind Gillette, WY
Gillette, WY
-1
3
3
55
Shelli Lind Gillette, WY
Gillette, WY
-
4
4
4T
Tristan Torres Rapid City, SD
Rapid City, SD
-
5
7
02K
Bill Kuhrt Gillette, WY
Gillette, WY
2
6
5
114
Khi Jackson Rapid City, SD
Rapid City, SD
-1
7
2
9T
Branden Torres Rapid City, SD
Rapid City, SD
-5
All transfer
360 sprints
Finish
Start
#
Competitor
Hometown
+/-
1
3
17B
Ryan Bickett Ramona, SD
Ramona, SD
2
2
2
88
Travis Reber Rapid City, SD
Rapid City, SD
-
3
5
21
Blayne Brink Gillette, WY
Gillette, WY
2
4
4
17D
Dillon Bickett Madison, SD
Madison, SD
-
5
6
3
Mike Pennel Rapid City, SD
Rapid City, SD
1
6
7
13
McKayla Worley Rapid City, SD
Rapid City, SD
1
7 DNF
1
4
Adam Speckman Rapid City, SD
Rapid City, SD
-6
Finish
Start
#
Competitor
Hometown
+/-
1
1
4
Adam Speckman Rapid City, SD
Rapid City, SD
-
2
3
88
Travis Reber Rapid City, SD
Rapid City, SD
1
3
7
17B
Ryan Bickett Ramona, SD
Ramona, SD
4
4
4
17D
Dillon Bickett Madison, SD
Madison, SD
-
5
6
21
Blayne Brink Gillette, WY
Gillette, WY
1
6
5
3
Mike Pennel Rapid City, SD
Rapid City, SD
-1
7
2
13
McKayla Worley Rapid City, SD
Rapid City, SD
-5
All transfer
IMCA Hobby Stock
Finish
Start
#
Competitor
Hometown
+/-
1
4
95J
John Garrigan Jr Rapid City, SD
Rapid City, SD
3
2
5
25
Kyle Hanson Hermosa, SD
Hermosa, SD
3
3
6
100K
Brett Konst Sturgis, SD
Sturgis, SD
3
4
2
00K
Tracy Konst Sturgis, SD
Sturgis, SD
-2
5
3
33C
Alan McNeil Rapid City, SD
Rapid City, SD
-2
6
8
24K
Casey Rose Rapid City, SD
Rapid City, SD
2
7 DNF
7
89
Abigail Boggs Custer, SD
Custer, SD
-
8 DNF
1
9
Jack Hubbard Jr Rapid City, SD
Rapid City, SD
-7
Finish
Start
#
Competitor
Hometown
+/-
1
6
95J
John Garrigan Jr Rapid City, SD
Rapid City, SD
5
2
1
9
Jack Hubbard Jr Rapid City, SD
Rapid City, SD
-1
3
4
00K
Tracy Konst Sturgis, SD
Sturgis, SD
1
4
5
33C
Alan McNeil Rapid City, SD
Rapid City, SD
1
5
7
25
Kyle Hanson Hermosa, SD
Hermosa, SD
2
6
8
100K
Brett Konst Sturgis, SD
Sturgis, SD
2
7
3
89
Abigail Boggs Custer, SD
Custer, SD
-4
8
2
24K
Casey Rose Rapid City, SD
Rapid City, SD
-6
All transfer
IMCA Modified
Finish
Start
#
Competitor
Hometown
+/-
1
3
44
Eric Mass Rapid City, SD
Rapid City, SD
2
2
1
XM
Mike Dimond Rapid City, SD
Rapid City, SD
-1
3
6
13
Brent Nielsen Rapid City, SD
Rapid City, SD
3
4
2
25R
Bryan Renken Gillette, WY
Gillette, WY
-2
5
9
57
Kinzer McCord Molt, MT
Molt, MT
4
6
8
14
Caden Roberts Dickinson, ND
Dickinson, ND
2
7
5
00
Ryan Renken Gillette, WY
Gillette, WY
-2
8
4
716
Jake Dimond Rapid City, SD
Rapid City, SD
-4
9
7
46
Adam Boggs Custer, SD
Custer, SD
-2
DNS
10
85X
Brett Pudwill Black Hawk, SD
Black Hawk, SD
-
Finish
Start
#
Competitor
Hometown
+/-
1
1
25R
Bryan Renken Gillette, WY
Gillette, WY
-
2
2
716
Jake Dimond Rapid City, SD
Rapid City, SD
-
3
4
00
Ryan Renken Gillette, WY
Gillette, WY
1
4
3
46
Adam Boggs Custer, SD
Custer, SD
-1
5
5
57
Kinzer McCord Molt, MT
Molt, MT
-
All transfer
Finish
Start
#
Competitor
Hometown
+/-
1
5
44
Eric Mass Rapid City, SD
Rapid City, SD
4
2
2
XM
Mike Dimond Rapid City, SD
Rapid City, SD
-
3
4
13
Brent Nielsen Rapid City, SD
Rapid City, SD
1
4
1
14
Caden Roberts Dickinson, ND
Dickinson, ND
-3
5 DNF
3
85X
Brett Pudwill Black Hawk, SD
Black Hawk, SD
-2
All transfer
WISSOTA Midwest Mods
Finish
Start
#
Competitor
Hometown
+/-
1
4
31
Kyle Harkin Hermosa, SD
Hermosa, SD
3
2
2
4
Darin Hauff Rapid City, SD
Rapid City, SD
-
3
3
008
Brandon Woodhead Box Elder, SD
Box Elder, SD
-
4
6
69
Britt Williams Fort Pierre, SD
Fort Pierre, SD
2
5
5
0
Peyton George Rapid City, SD
Rapid City, SD
-
6
7
50
Paul Parks Owanka, SD
Owanka, SD
1
7
1
66
Mark Brave Rapid City, SD
Rapid City, SD
-6
8
8
166
James Stands III Rapid City, SD
Rapid City, SD
-
Finish
Start
#
Competitor
Hometown
+/-
1
2
008
Brandon Woodhead Box Elder, SD
Box Elder, SD
1
2
4
31
Kyle Harkin Hermosa, SD
Hermosa, SD
2
3
5
4
Darin Hauff Rapid City, SD
Rapid City, SD
2
4
7
0
Peyton George Rapid City, SD
Rapid City, SD
3
5
8
66
Mark Brave Rapid City, SD
Rapid City, SD
3
6
1
69
Britt Williams Fort Pierre, SD
Fort Pierre, SD
-5
7
6
50
Paul Parks Owanka, SD
Owanka, SD
-1
8
3
166
James Stands III Rapid City, SD
Rapid City, SD
-5
All transfer
WISSOTA Street Stock
Finish
Start
#
Competitor
Hometown
+/-
1
5
34JR
Braden Brauer Eyota, MN
Eyota, MN
4
2
4
78
Leonard Ferguson Kyle, SD
Kyle, SD
2
3
6
22T
Troy Murner Rapid City, SD
Rapid City, SD
3
4
2
79
Warren Pourier Jr Kyle, SD
Kyle, SD
-2
5
7
21Q
Andy Fitzgerald Rapid City, SD
Rapid City, SD
2
6
1
38
Toby Price Oglala, SD
Oglala, SD
-5
7
3
7
Les Cuny Allen, SD
Allen, SD
-4
8 DNF
8
2
Gary Ferguson Kyle, SD
Kyle, SD
-
Finish
Start
#
Competitor
Hometown
+/-
1
8
34JR
Braden Brauer Eyota, MN
Eyota, MN
7
2
4
78
Leonard Ferguson Kyle, SD
Kyle, SD
2
3
3
38
Toby Price Oglala, SD
Oglala, SD
-
4
6
79
Warren Pourier Jr Kyle, SD
Kyle, SD
2
5
2
7
Les Cuny Allen, SD
Allen, SD
-3
6
5
22T
Troy Murner Rapid City, SD
Rapid City, SD
-1
7
7
21Q
Andy Fitzgerald Rapid City, SD
Rapid City, SD
-
8
1
2
Gary Ferguson Kyle, SD
Kyle, SD
-7
All transfer